Dear followers
I apologise for recent events that occurred on my tumblr, I see that I accidentally posted game of thrones images on this Tim Burton based blog. Of course this was an absolute mistake as I meant to reblog them to my Game Of Thrones Blog! I'm very sad to see quite a number of you have left for one tiny mistake. Once again sorry.
This is Tim Burtons 'Little Dead Riding Hood' and 'Mrtvá Karkulka'. This is in the form of a post card created in 2014 sold at Tim Burtons expedition in Prague.
This is Tim Burtons character 'Jack' who can be found in his 1996 film 'The Nightmare Before Christmas'- part of his private collection!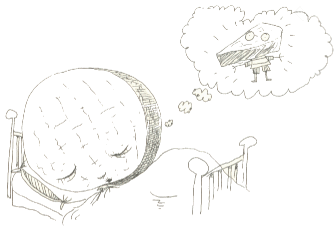 Brie Boy had a dream he had only had twice,
that his full, round head was only a slice.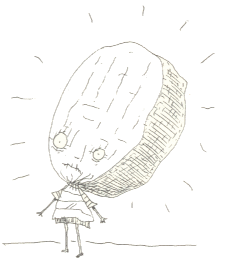 The other children never let Brie Boy play …
… but at least he went well with a nice Chardonnay.
A Note From Me
Hello, i'm wanting to go and be a volunteer for the Askari Wilderness Conservation Project.  Here i will go and contribute to helping this wildlife reserve in Africa; this will include helping unfortunate animals and contributing to the animal welfare. What i want to know is, if i set up a donations page here on tumblr through Paypal would any of you donate to my cause? Thanks.
Sue
To avoid a law suit,
we'll just call her Sue
(or "that girl who likes
to sniff lots of glue").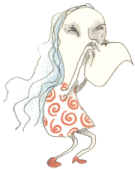 The reason I know
that this is the case
is when she blow her nose,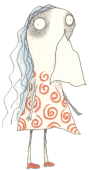 kleenex sticks to her face.
this piece by Tim Burton is untitled but is part of his 'Edward scissor hands' collection. 
1990. Ink on paper 8 x 6" (20.3 x 15.2 cm). Private collection.  (Not the original drawing of this piece) 
 Have a happy valentines everyone.
This is Tim Burtons 'Oyster boy' from Burtons 1997 poetry book 'The Melancholy Death Of Oyster Boy And Other Stories' 

He proposed in the dunes,

they were wed by the sea,

Their nine-day-long honeymoon
was on the isle of Capri.

For their supper they had one specatular dish-
a simmering stew of mollusks and fish.
And while he savored the broth,
her bride's heart made a wish.
That wish came true-she gave birth to a baby.
But was this little one human
Well, maybe.

Ten fingers, ten toes,
he had plumbing and sight.
He could hear, he could feel,
but normal?
Not quite.
This unnatural birth, this canker, this blight,
was the start and the end and the sum of their plight.

She railed at the doctor:
"He cannot be mine.
He smells of the ocean, of seaweed and brine."

"You should count yourself lucky, for only last week,
I treated a girl with three ears and a beak.
That your son is half oyster
you cannot blame me.
… have you ever considered, by chance,
a small home by the sea?"

Not knowing what to name him,
they just called him Sam,
or sometimes,
"that thing that looks like a clam"
Everyone wondered, but no one could tell,
When would young Oyster Boy come out of his shell?

When the Thompson quadruplets espied him one day,
they called him a bivalve and ran quickly away.
One spring afternoon,
Sam was left in the rain.
At the southwestern corner of Seaview and Main,
he watched the rain water as it swirled
down the drain.

His mom on the freeway
in the breakdown lane
was pouding the dashboard-
she couldn't contain
the ever-rising grief,
frustration,
and pain.

"Really, sweetheart," she said
"I don't mean to make fun,
but something smells fishy
and I think it's our son.
I don't like to say this, but it must be said,
you're blaming our son for your problems in bed."

He tried salves, he tried ointments
that turned everything red.
He tried potions and lotions
and tincture of lead.
He ached and he itched and he twitched and he bled.

The doctor diagnosed,
"I can't quite be sure,
but the cause of the problem may also be the cure.
They say oysters improve your sexual powers.
Perhaps eating your son
would help you do it for hours!"

He came on tiptoe,
he came on the sly,
sweat on his forehead,
and on his lips-a lie.
"Son, are you happy? I don't mean to pry,
but do you dream of Heaven?
Have you ever wanted to die?

Sam blinked his eye twice.
but made no reply.
Dad fingered his knife and loosened his tie.

As he picked up his son,
Sam dripped on his coat.
With the shell to his lips,
Sam slipped down his throat.

They burried him quickly in the sand by the sea
-sighed a prayer, wept a tear-
and they were back home by three.
A cross of greay driftwood marked Oyster Boy's grave.
Words writ in the sand
promised Jesus would save.

But his memory was lost with one high-tide wave.
This is Santa claus and Jack Skeleton, this image can be found on the back of Tim Burtons 1993 book,'The Nightmare Before Christmas'. This book was written and illustrated by Tim Burton himself. These two characters can later be found in Tim Burtons 1996 stop animation film 'The Nightmare Before Christmas'. 
This is Tim Burtons character 'James' who can be found in his 1997 poetry book 'The Melancholy Death Of Oyster Boy And Other Stories'.
story:
Unwisely, Santa offered a teddy bear to James, unaware that
He had been mauled by a grizzly earlier that year.
Well, have a ghoulish christmas season everyone!